Market Your Car Inc was founded in 2008 as a vehicle graphics and marketing company. Our constant focus on quality and services has allowed us to grow very rapidly in the vehicle graphics industry. Our current 8,000 sq ft facility is capable of handling multiple 53 ft trailer wrap installations and houses a large variety of specialized equipment. Our core values of quality and service are applied to all aspects of our business including design, print, and installation of various wraps from car wraps and bus wraps to truck wraps and trailer wraps. Our customers range from small business to large national corporations. Our ability to supply and install graphics across Canada allows us to service large national fleets while keeping our customers branding consistent across the country.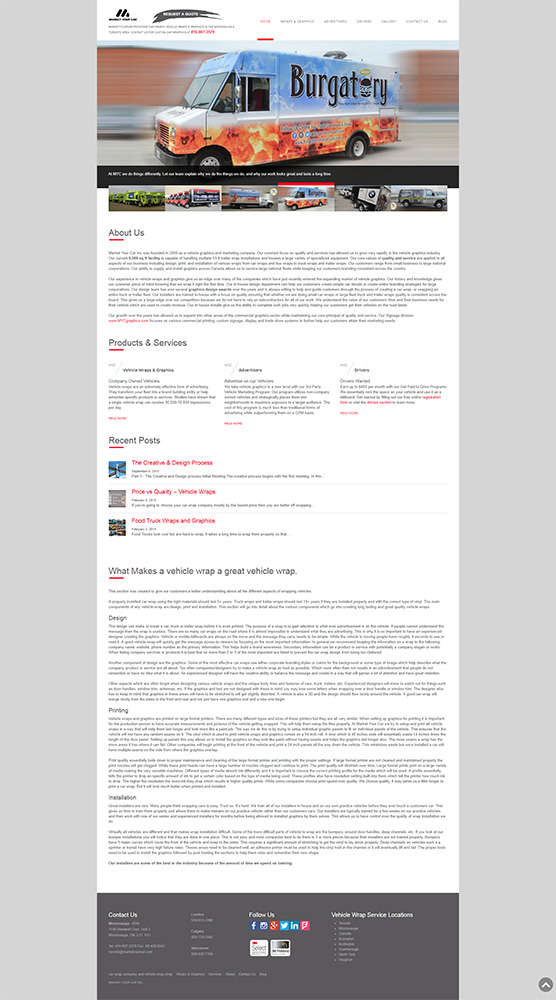 Deliverables
Web Development
Branding & Logo Design
Hosting
Maintenance
Look and feel
Modern
Clean
Informative
Professional
Overview
Market Your Car started it all off for us. We wanted to give it a clean and professional feel while retaining modern standards and accessibility on various devices.
Building a brand for Market Your Car set an identity and reputation for the rest of it's sister brands that you know and love so well!