Inspired by hawkers, vendors, food trucks and the Street stalls of the world, TKRE has been a home to real, good, worldly Indian street food. In the heart of Toronto at 692 Yonge Street, they conceptualized street-food place that incorporated live cooking, good company, music and a stimulating space to tingle all your senses.
TKRE started with Kathi Rolls that are the oldest Street food that originated during the British Era. Savoury barbecued meats or veggies rolled into a Parantha, griddled Indian flat bread, then layered with an egg. This exquisite fare was then rolled up into parchment paper, twisted at the end, handed to the British Army Officer to eat. This allowed them to avoid getting their hands messy!
And then comes their medley as their food evolved into fusion with our Indian Style Burritos, Tacos & Street Platters. Imagine, Eat, Relish & Enjoy!!!!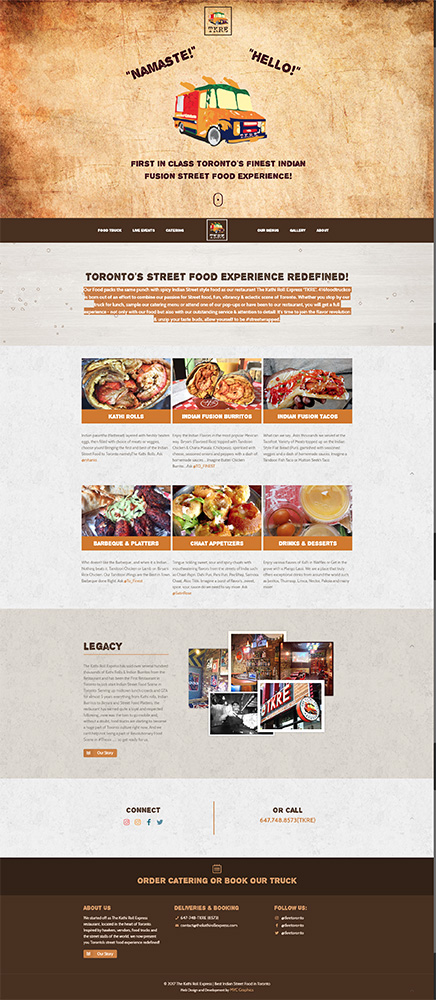 DELIVERABLES
Web Development
Hosting
LOOK AND FEEL
Traditional
Modern
Cultural
Simple
Clean
OVERVIEW
Anytime a cultural or traditionally unique look is desired, things become challenging – especially so when your target audience is someone that doesn't understand the culture or traditions being portrayed.
The Kathi Roll Express was one such project that, might we say, we were able to marry all the requirements of traditional, cultural, modern and clean approaches to design and offer a unique solution that everyone can understand and appreciate.